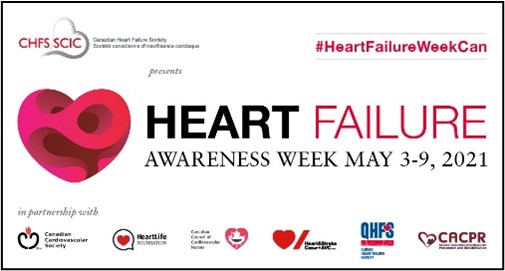 Heart Failure Awareness Week
CorHealth is pleased to support the Canadian Heart Failure Society's 3rd Canadian Heart Failure Awareness Week happening from May 3 to 9, 2021 in partnership with the Canadian Cardiovascular Society, the Canadian Council of Cardiovascular Nurses, the Canadian Association of Cardiovascular Prevention and Rehabilitation, the HeartLife Foundation, the Heart and Stroke Foundation of Canada, and the Québec Heart Failure Society. A full list of resources and events can be found on the CHFS website.
The national campaign can be followed on Twitter @CanHFSociety and by following hashtag #HeartFailureWeekCan.
Some events this week include: